Albee Proud of his biggest catch


FUNFARE By Ricky Lo (The Philippine Star) | Updated December 6, 2017 - 12:00am
TAIPEI — "Guilty!" Without much ado and even before we could accuse him of anything, Negros Occidental Rep. Alfredo Abelardo "Albee" Bantug Benitez pleaded "no contest" when asked how he lost his innocence. Blushing a bit, Albee started doing arithmetic.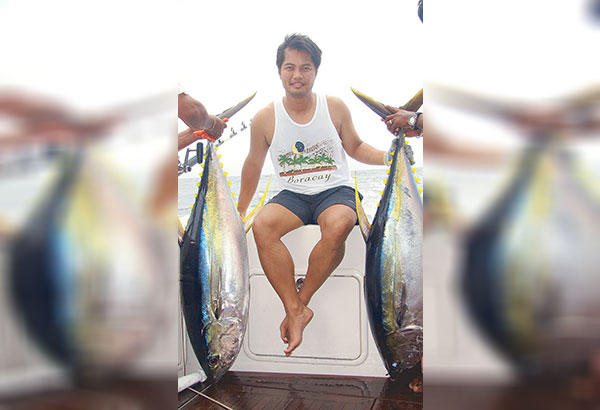 According to Albee, in big-game fishing, a 30-kilo fish is considered the smallest catch.
"Let me see," Albee recalled. "I think I was…wait a minute. I studied first year high school in Paris when I was about 12 or 13. I stayed in a boarding school. Too young for adventure? Hmmm, not really. I graduated from college at 21…21 minus four equals 17…17 minus four equals 13. Yes, I was 13 when I lost it."
We bumped into Albee at a posh Korean restaurant in downtown Taipei and he readily offered to treat our group (led by Lolit Solis) to a sumptuous dinner, so we took advantage of the chance to do "Body Talk" with him. He was game, hardly buckling in answering all the questions including some personal ones like, well, losing "it."
To an older woman, younger girl or a girl his age?
"To an older woman," he confessed. "She was about 20 years old," adding that like most boys in such a precarious situation, he was seduced and he willingly gave in.
Albee was in this city to meet with his Harvard friends, staying only overnight since he had to rush back to Manila to attend to his duties as head of the Committee on Housing and lead convenor of the Visayan Bloc. For sure, Albee (now into his third term) has learned a lot about housing from his father, Dr. Jose Conrado Benitez, former Deputy Minister of the Ministry of Human Settlements, former president of the Philippine Women's University and 1997 TOYM Awardee for Public Administration. His mom is Betty Bantug Benitez, former executive director of the Cultural Center of the Philippines (CCP).
Born on Dec. 20, 1966 in Palo Alto, California, USA, he's married to Dominique Lopez with whom he has two children, Javier Miguel, 23, and Bettina Marie, 18. Besides his one-year schooling in Paris, Albee finished primary and secondary schools in La Salle (Greenhills); and tertiary (Bachelor of Science in Mathematics) at the College of William & Mary, Williamsburg Virginia, USA. He also took up Executive Education, Leaders in Development Course at the Harvard Kennedy School.
It was during that dinner where we discovered Albee's showbiz connections, starting with his friends, among them Gabby Concepcion ("I've known him even before he courted Sharon Cuneta"), Albert Martinez and Richard Gomez with whom they are planning to co-produce an Oceans 11-inspired movie, also with Piolo Pascual. If ever, it won't be Albee's first time to venture into moviemaking (he has invested in three films with a big company). With son Javier Miguel, Albee also hosted five seasons of the ANC show called Game Changer Philippines which showcased ideas, events and promotions that have made significant contributions to the advancement of communities and Filipino society, with guests that included innovators, entrepreneurs and cultural/environmental advocates.
Among his plans is to build a theme park in his province that will feature Philippine folk heroes and native games.
Anyway, to continue the Body Talk…
What kind of diet do you follow?
"I eat anything."
What vitamins do you take?
"Vitamin E which is good for the skin. You see, skin is the weakest organ among the Benitezes."
What workout do you do; what are your favorite sports?
"My favorite sport is big-game fishing which is what Richard also loves aside from fencing and rowing, his other favorites. It gives me a big thrill when I catch a big fish. In big-game fishing, the smallest catch weighs 30 kilos. I also play badminton. (He was a member of the badminton team that was named champion in the 2007 US Open and the water-skiing team that competed at the 1988 SEA Games in Singapore.) I also like shooting; I play golf. For two months now, I've been working out in the gym."
How much water do you take per day?
"Lots of water, as many as 10 bottles, especially during a two-hour badminton game. But no coffee for me and no hard drinks. I'm more into tea."
What's his outlook in life?
"Always optimistic. There's always hope for everything; anything is possible if you set your mind to it."
How does he cope with stress; how does he unwind?
"I go fishing in an island which is one of the few fishing paradises in the Philippines. I sometimes go with Gabby and/or Albert."
Favorite cities?
Paris, of course! Also, Singapore which is well-planned, from the zoning to the housing."
What about movies?
"I like action movies, feel-good movies. I enjoyed watching Captain America and Star Wars. Yung mgafeel-good movies. But if ever I produce a movie again, I prefer to do a historical film."
And music?
"Jazz, such as the music of the Katindig brothers."
Last thing that you do before you go to sleep?
"Check the list of what I have to do the next day."
And the first thing that you do as soon as you wake up?
"Check my celfone for text messages and missed calls."
Three women that you find sexy?
"Megan Fox, Gal Gadot and Nicole Kidman."