IN 3RD DISTRICT Mayors welcome Teach for the Philippines


on Sat, 11/18/2017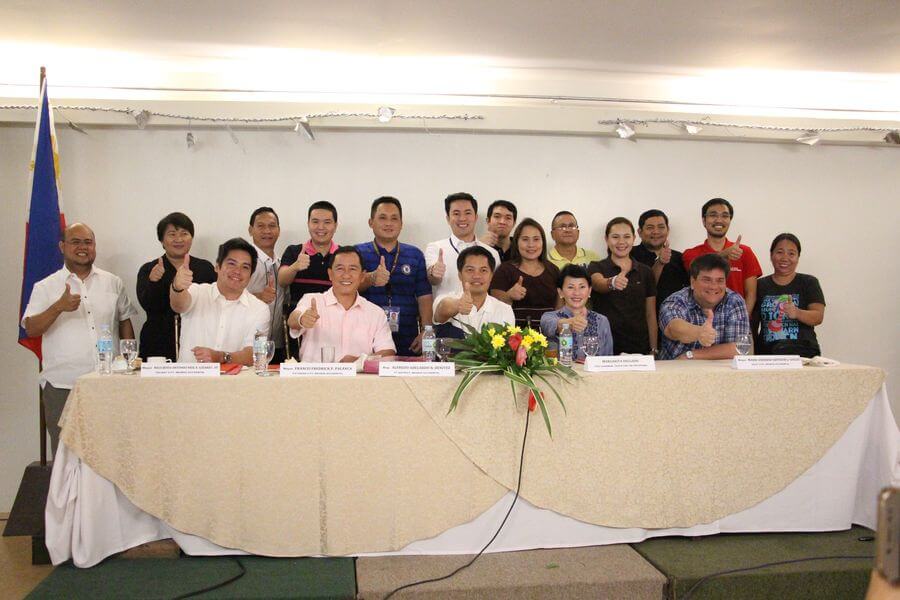 Rep. Alfredo Benitez (seated, center), with Talisay Mayor Neil Lizares, Victorias Mayor Wantan Palanca, TFP vice-chair Margarita Delgado, and Silay Mayor Mark Golez (seated, l-r); and (standing) councilors, education consultants, and DepEd representatives*
Nine teacher-fellows trained by Teach for the Philippines will immerse themselves in selected public schools in the cities of Talisay, Silay and Victorias, in the third district of Negros Occidental by June 2018, to help provide innovation and more productivity in the learning system to improve the performance of teachers and students, a press release from the Office of Third District Rep. Alfredo Benitez said.
This was the initial agreement with the mayors of Talisay, Silay and Victorias, with Teach for the Philippines vice-chairperson Margarita Delgado and Benitez, who attended the recent gathering of education stakeholders in Talisay City where the TFP presented their Fellowship Program flagship initiative.
Benitez initiated the orientation activity, attended by Talisay Mayor Neil Lizares, Silay Mayor Mark Golez, and Victorias Mayor Francis Frederick Palanca, together with their respective sanggunian chairpersons on education committee, and education consultants. Also present were Negros Occ. Division OIC SDS Gladys Amylaine Sales, and Silay Schools Division admin officer Jowel Alimon, the press release said.
Teach for the Philippines is a nationwide non-profit organization working with progressive local governments and school divisions that share the common vision for education equity. The Fellowship Program recruits volunteers from diverse academic disciplines and professional backgrounds, provides them with intensive pre-service training on progressive teaching, and fields them on a two-year leadership development program in a Philippine public school. The teacher-fellows immerse themselves in the classroom and the community, interacting with students, teachers, parents and neighbors, even village leaders, and exploring holistic education approaches to attain enrichment breakthroughs.
Benitez said "in harnessing the best and the brightest, we are helping to upgrade the education system in the countryside. If we have good teachers, we will also have good students."
A memorandum of agreement is expected to be finalized with participating stakeholders by end of January 2018, as the mayors and councilors assured the TFP of support, the press release said.
The TFP was also represented by Jan Kevin Rivera, interim director for government relations and placement, and Levi Guillermo Geganzo, the manager for government relations and placement, the press release added.*