Albee targets 75T families for NOCHP


on Saturday, August 26, 2017
BY GILBERT P. BAYORAN
EB MAGALONA -Rep. Alfredo Benitez said yesterday that he is planning to increase the beneficiaries of the Negros Occidental Comprehensive Health Program in the 3rd district of Negros Occidental, to 75,000 families.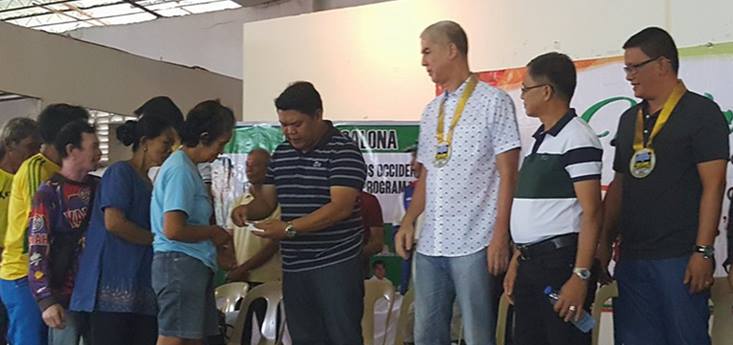 Mayor Marvin Malacon. Vice Gov Eugenio Jose Lacson. Abang Lingkod Rep.Stephen Paduano and Himamaylan City Mayor Ernesto Agustin Bascon, distribute NOCHP cards to beneficiaries in EB Magalona.* Gilbert Bayoran photo
There are now 59,714 families enrolled in the health care program of the provincial government of Negros Occidental, being implemented in tandem with Benitez in the 3rd district, NOCHP records, as of July this year show.
"We are targeting 75,000 out of 93,000 families in the district to be covered by NOCHP,including the senior citizens," Benitez, who led the distribution of health care cards to more beneficiaries at the Wilkinson Social Court in EB Magalona, said yesterday.
More than 7,000 families in 23 barangays of EB Magalona are beneficiaries of NOCHP.
NOCHP is the first program that offers to handle the whole amount you need in hospitalization. He recalled that before those in need of medical assistance received only a small amount to cover their hospital expenses.
Mayor Marvin Malacon, who assisted Benitez, Rep. Stephen Paduano, Vice Governor Eugenio Jose Lacson, Himamaylan City Mayor Ernesto Agustin Bascon and NOCHP head Ma. Mina Pellejo in the distribution of health cards, said he is thankful to Gov. Alfredo Marañon and Benitez forthe program, as this will be a big help to Saraviahanons.
Malacon said they are now processing the enrollment of 2,500 senior citizens of the town in the NOCHP program, as he wants to double the number.
NOCHP records show that 83,815 patients in the 3rd district availed the program from September 2010 to July this year.
The 3rd district remains on top of the list of NOCHP with the most number of enrolled families, compared to five other districts in Negros Occidental, excluding the lone district of Bacolod.
Aside from EB Magalona, there are also 18,608 families enrolled in the NOCHP program in Silay City, Victorias City – 12,580, Murcia – 10,892, Talisay City- 9,548.
Malacon also said Benitez allocated P2. 5 million burial assistance to EB Magalona, on top of P1 million earmarked by Paduano.*