Benitez seeking return of P1.6B


Thursday, July 27, 2017
BY CARLA GOMEZ
The annual allocation for the sugar industry in the 2018 national budget is short by P1 billion as it does not include funds for infrastructure, Rep. Alfredo Abelardo Benitez (Neg. Occ., 3rd District) said yesterday.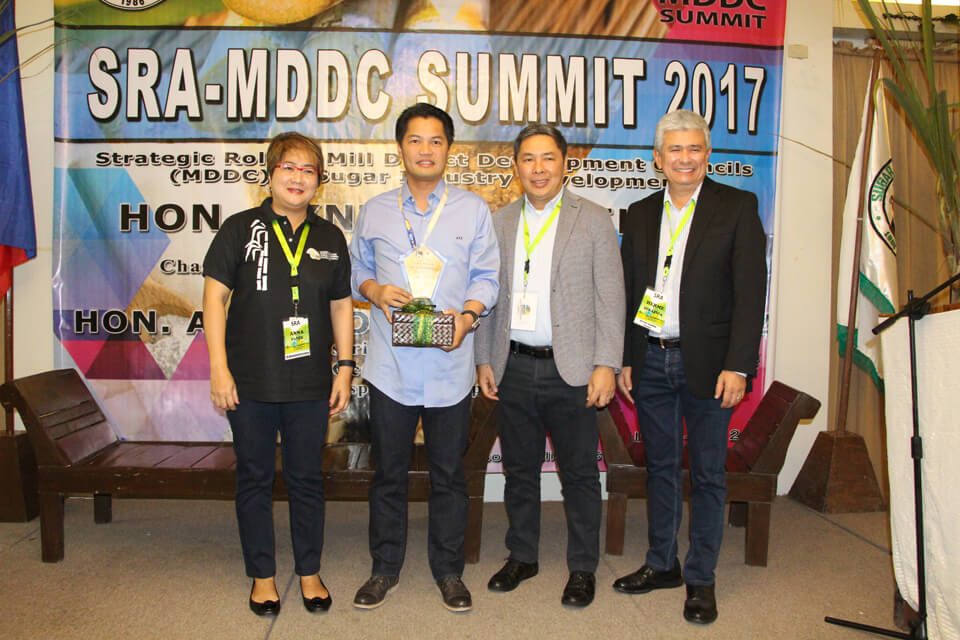 Rep. Alfredo Abelardo Benitez (2nd from left) with SRA Administrator Anna Rosario Paner, and Sugar Board members Roland Beltran and Hermenegildo Serafica (l-r) at the SRA-MDCC Summit yesterday*
Under the Sugar Industry Development Act he authored, P2 billion must be allocated annually for the industry, with P100 million for scholarships, P300 million for block farms, P300 million for socialized credit, P300,000 million for research and development, and P1 billion for infrastructure.
"We will rectify this and make sure the missing P1 billion is included in the final budget for 2018," along with the P600 million shortfall in the SIDA budget for 2017, said Benitez who spoke at the Sugar Regulatory Administration-Mill District Development Councils Summit at the Nature's Village Resort in Talisay City, Negros Occidental.
He said the 2016 allocation for the sugar industry was also only P1.75 billion, short of P250 million of the P2 billion mandated by law.
There seems to be some communication gap between the SRA and the Department of Budget and Management, Benitez said.
He said the P1.6 billion he is pushing for will be for farm to mill roads in sugar areas, and he has asked the SRA officials led by Administrator Anna Rosario Paner for a list of such roads, which they promised to give him in a couple of days.
Public Works Secretary Mark Villar hasalso agreed to allocate P50 billion from his department's budget for farm-to-market roads nationwide, he added.
Benitez also said some senators informed him that they are reluctant to pass the national tax reform bill because of the excise tax imposed on sugar sweetened beverages (SSBs).

The tax on SSBs may not pass after all, he said.
Sugar industry stakeholders are opposing the tax on SSBs because they said this will drive down sales.
Meanwhile, Benitez debunked statements that the sugar industry will go the way of the tobacco industry that has suffered from the drop in cigaret use, with the health campaign against the use of too much sugar.
The sugarcane industry is not a sunset industry, it is very resilient, he said.
While tobacco only produces one product – cigarets, sugarcane can produce many other products on top of sugar such as ethanol and power, he said.*CPG