Lawmaker: Charter change process not being railroaded


Monday, January 22, 2018
By Teresa D. Ellera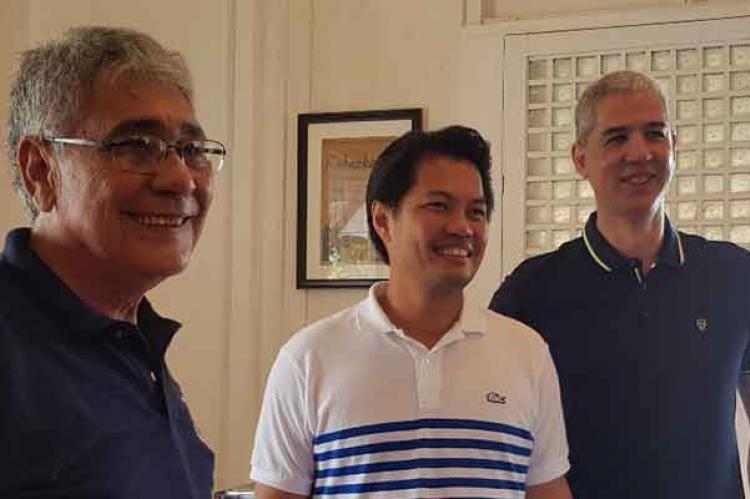 BACOLOD. Kabankalan City Mayor Isidro Zayco (left) welcomes Third District Representative Alfredo Benitez (center) and Vice Governor Eugenio Jose Lacson at the 42nd Sinulog Festival celebration on Sunday, January 21. (Carla N. Cañet)
NEGROS Occidental Third District Representative Alfredo Benitez said on Sunday charter change is not being railroaded by the House of Representatives because it is going through the proper procedure.
"This has been talked about by President Rodrigo Duterte when he was still campaigning. This is not being railroaded," said Benitez, who was the guest speaker during the 42nd Sinulog Festival in Kabankalan City, Sunday, January 21.
He added that hearings have been conducted by the committee on constitutional reforms and a technical working group has been formed, and a sub-committee was also created from the mother committee.
Last Tuesday, majority of the House approved the resolution compelling both chambers of Congress to convene a constitutional assembly and deliberate the proposed amendments to the 1987 Constitution, including the shift to a federal form of government.
Benitez said that this week, Congress may hold an all party caucus to discuss and determine the provisions that would be acceptable to the House members.
The Negrense lawmaker pointed out there is no issue regarding the Lower House and the Senate voting jointly or separately in approving the provisions to be presented and amended in the Constitution.
"For me what is important is we have the same objective for the good of the majority," Benitez said.
Senator Panfilo Lacson had filed a resolution insisting that the two Houses of Congress shall vote separately on certain provisions that they wanted to change to realize federalism and shall meet on the bicameral committee while House Speaker Pantaleon Alvarez insisted that they vote jointly based on what is stated in the Constitution.
Benitez also said that charter change is moving forward and is not dead as claimed by Lacson.
He said that a plebiscite could be held before the barangay elections on May this year depending on how fast Congress would be able to finish the proposed provisions to be changed.