Negros Occidental lawmaker now 3rd richest congressman


Saturday, August 12, 2017
By MARCHEL P. ESPINA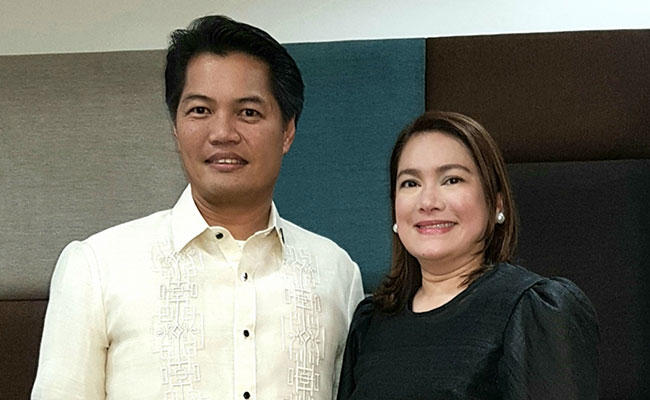 BACOLOD. Negros Occidental Third District Representative Alfredo Benitez and wife Dominique at President Rodrigo Duterte's State of the Nation Address last month. (Carla N. Cañet)
NEGROS Occidental Third District Representative Alfredo Benitez is still among the richest members of the House of Representative, based on his 2016 statements of assets, liabilities, and net worth (SALN).
Benitez was the third richest congressman with a net worth of P942.96 million. He improved from number five last year to number three this year as his net worth increased from P880.017 million.
He has total assets of P1.083 billion, with P140.761 million in liabilities.
Other lawmakers from Negros Occidental who declared their SALNs were Alejandro Mirasol (Fifth District) with P21.676 million net worth; Leo Rafael Cueva (Second District), P12.541 million; Mercedes Alvarez (Sixth District), P8.356 million; Melecio Yap Jr. (First District), with P8.141 million; and Greg Gasataya (Bacolod City), P2.595 million.
Of the 294 lawmakers in the country, neophyte Michael Odylon Romero (1-Pacman party-list) is the richest congressman with a net worth of P7.009 billion followed by Emmeline Aglipay-Villar (Diwa party-list) with P1.409 billion.
Rounding up the top 10 are Imelda Marcos (2nd District, Ilocos Norte) with P917.80 million net worth; Feliciano Belmonte Jr. (4th District, Quezon City), P852.13 million; Virgilio Lacson (Manila Teachers party-list), P768.82 million; Bayani Fernando (1st District, Marikina City), P738 million; Vilma Santos-Recto (6th District, Batangas), P522.61 million; and Antonio Floirendo Jr. (2nd District, Davao del Norte), P491.71 million.