NOCHP covers 7,067 EB Magalona families


on Monday, August 14, 2017
BY GILBERT P. BAYORAN
The provincial government of Negros Occidental continues to provide comprehensive health care to Negrenses, with 7,067 families in EB Magalona having been added to its list of recipients.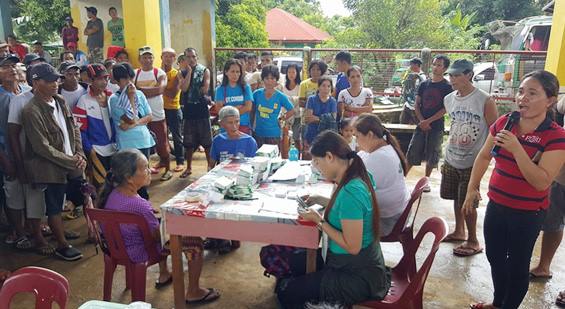 Barangay Captain Rio Jemella welcomes the NOCHP staff during the distribution of heath cards to 628 of her constituents in Brgy Consing, EB Magalona.*
A total of 1,101 families in the remote barangays of Canlusong, San Isidro and Consing, received their NOCHP (Negros Occidental Comprehensive Health Program) cards Friday.
Recipients of the cards and their dependents will be able to avail of free hospitalization and medical check-ups in all government hospitals in the province.
Despite the bad weather and almost impassable terrain, NOCHP personnel, assisted by the staff of Mayor Marvin Malacon and Rep. Alfredo Benitez, delivered the health cards to their recipients Friday.
Canlusong, a mountainous barangay and a former hotbed of insurgency, is about 35 kilometers away from the poblacion of EB Magalona.
NOCHP is a priority program of the provincial government of Negros Occidental under the Negros First Provincial Executive-Legislative Agenda of Governor Alfredo Marañon Jr., in tandem with the six congressional districts.
The marathon distribution of NOCHP cards in all barangays of EB Magalona, completion target is August 25.
Malacon thanked Marañon and Benitez, for the health care package to EB Magalona residents, saying it will be a big help, especially to indigent families, as they will no longer have problemsin hospital bills when they are confined in government hospitals.
Barangay captains Meriam Porras of Canlusong, Rio Jemella of Consing and Joey Abonalles of San Isidro also welcomed the health care package for their constituents.
Among the six districts of Negros Occidental, the third district continues to lead in the implementation of the NOCHP program.
As of July 31 this year, the third district had 59,714 member-families, out of 235,171 families enrolled in the whole province, NOCHP records showed.* GPB