NOCHP Enrollment in 3rd District Intensifies


on Tue, 07/18/2017
The Third District of Negros Occidental continues to intensify its campaign to reach more families to enroll in the Negros Occidental Comprehensive Health Program (NOCHP) to avail of free medical services in times of need.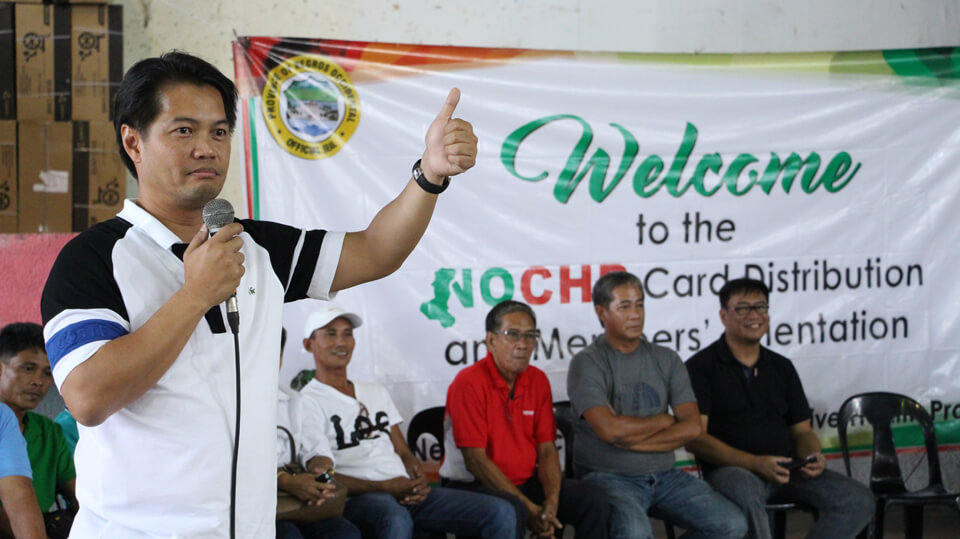 Congressman Alfredo Benitez continues to mobilize his District Office and satellite offices in cities of Victorias, Silay , Talisay and municipalities of Murcia and EB Magalona to reach far-flung upland and coastal communities, educating families of the benefits of the program.
With a total of 59,080 families enrolled in NOCHP to date, the Third District keeps its lead in the implementation of the program in the whole province.
Recently, the NOCHP team led by Governor Alfredo Marañon, Congressman Benitez and Mayor Neil Lizares distributed a total of 1,960 NOCHP cards to qualified members; and another 1,641 beneficiaries in Murcia received their cards from the group together with Mayor Andrew Montelibano and Vice-Mayor Gerardo Rojas.
Enrollment for senior citizens is also a priority in the Third District.
Congressman Benitez has urged mayors in his district to continue fully supporting NOCHP enrollment to reach a target of 75,000 beneficiaries.
The Third District NOCHP enrollment has the following record update: EB Magalona – 8,059; Murcia – 10,895; Silay – 18,018; Talisay – 9,546 and Victorias – 12,562.*