'Private sector must help govt solve housing mess


By Jovee Marie de la Cruz - APRIL 30, 2017
The chairman of the House Committee on Housing and Urban Development said the government should now tap the help of private sector in addressing the country's housing problems.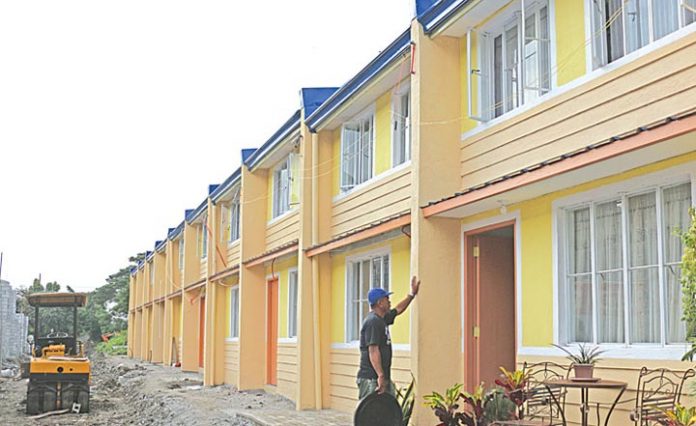 In Photo: A worker looks at the finished cluster of a housing project in Cavite. The row houses will be awarded to the informal settlers of Las Piñas City.
Rep. Alfredo B. Benitez of PDP-Laban Party-list said the government alone cannot solve the worsening housing problems of the Philippines.
Benitez noted that there are idle lands or properties which could be used as sites for government and private-sector socialized housing programs.
"If the government will not act on it, the problem on housing will worsen," Benitez said, following a recent Congress's ocular inspection in housing projects in Bulacan.
"Affordable housing provides a more cost-effective solution to address homelessness in the Philippines," he added.
He said the government can initiate land-sharing or buy it out, or have an agreement to be able to free that land, and establish decent housing for Filipinos.
Currently, at least 5,821.57 hectares of land in the National Capital Region are available for public-private partnership (PPP) for the government's socialized housing programs.
Of the 5,821.57 hectares, 1,234.85 hectare, are government-owned and currently being occupied by informal-settler families (ISFs), while the 2,185 hectares are idle and ready for housing programs.
Benitez added the remaining 2,401.72-hectare private land are also being occupied by ISFs.
The lawmaker said the housing programs could be done under the PPP scheme and that the private sector should follow the lead of the government.
"Both ISFs and low- and middle-income earners will benefit from this," he added.
Earlier Benitez said the housing needs of Filipinos could balloon to 6.8 million before President Duterte's stepped down from office in 2022.
The lawmaker, citing the Housing and Urban Development Coordinating Council (HUDCC), said 2 million of these 6.8 million backlog were recorded in 2016.
Benitez also said the 760,400 housings needs for this year are also part of these 6.8 housing backlogs.
He said there will be an estimated 774,441 housing needs in 2018; 788,773 in 2019; 803,405 in 2020; 818,363 in 2021; and 833,619 in 2022.
To fill this gap, Benitez said at least 1 million units should be constructed every year. "Of these available lands, 700 hectares are needed to produce 600,000 housings units in four- to five-story buildings."
In a separate statement, Benitez said Congress will exercise its oversight powers to review the government's housing programs.
"Congress will exert its oversight power to review all government housing projects and to guarantee and come up with a new process on how we can better implement our housing programs," he said.