Sugar Industry Summit Held


on Thu, 07/27/2017
In a historic move to further strengthen the Philippine Sugar Industry, the Sugar Regulatory Administration (SRA) held the Sugar Industry Summit July 25 to 26, 2017 at Nature's Village Resort, Talisay City, Negros Occidental. Carrying the theme "The Strategic Role of Mill District Development Councils (MDDcs) in Sugar Industry Development," the summit will specifically engage a key industry partner, the MDDCs. The Summit seeks to build consensus on how the MDDCs could perform their strategic role in the implementation of projects under the R.A. No. 10659 of the "Sugar Industry Development Act of 2015" (SIDA).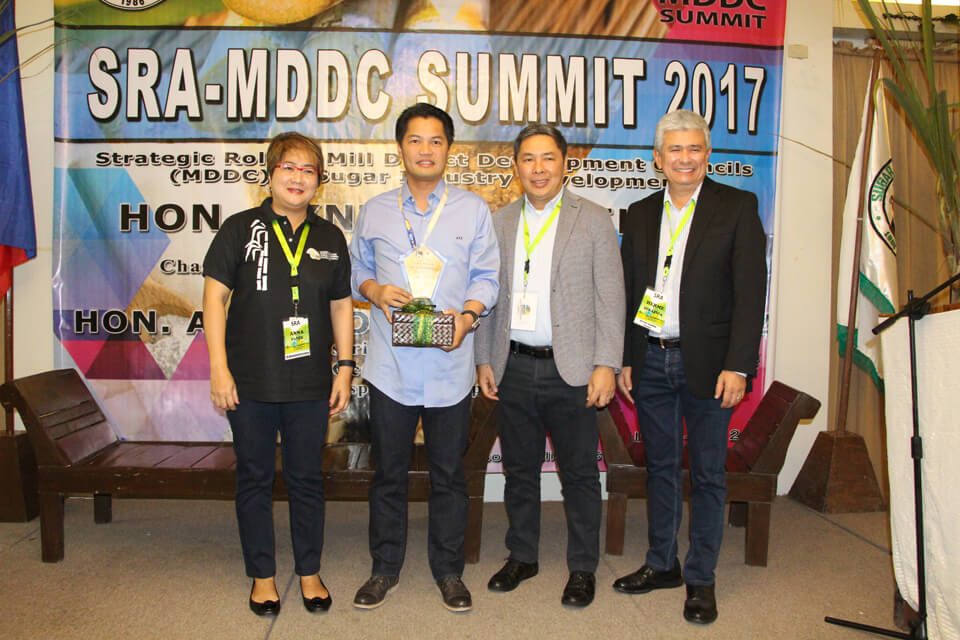 From left: SRA Administrator Atty. Anna Rosario Paner, Cong. Albee Benitez, Sugar Board Member Hermenegildo Serafica, and Sugar Board Member Roland Beltran
The Philippine sugarcane industry relies on the greater and more significant participation of its partners and stakeholders such as the MDDCs, which were created by the SRA to encourage the active involvement and participation of the private sector in the advancement of the sugar industry specifically in the field of research and development in the mill district level.
In order to enhance partnership between and among MDDCs, and between MDDCs and the government, there is a need to define appropriate policies, and clarify relationships between MDDCs and the government. The Summit seeks to address these needs.
The Summit will highlight the crucial role of the MDDCs in the implementation of SIDA projects. The SIDA aims to promote the competitiveness of the sugarcane industry, maximize the utilization of sugarcane resources, and improve income of farmers and farm workers.
Senator Cynthia A. Villar, Chair of the Senate Committee on Agriculture and Food and main author of the SIDA delivered the Keynote Address at the Summit. Department of Agriculture Secretary Emmanuel Piñol graced the Summit as Grace of Honor and Speaker. Meanwhile, one of the champions of the sugarcane industry, Representative Alfredo Benitez of the 3rd District of Negros Occidental will share an inspirational message. Around 25 MDDCs from across the country represented at the Summit, as they listen to presentation and engage in workshops about the accomplishments, status, and redefined roles of the MDDCs. About 150 participants were expected from sugar sector, including officials from key partner agencies of the SRA in SIDA project implementation, such as the Commission on Higher Education, Technical Education and Skills Development Authority, and Department of Public Works and Highways.
The Summit aims to review the roles and accomplishments of MDDCs since their institutionalization, to survey the current state or situation of MDDCs in relation to accomplishing the purposes of their creation, to chart the way towards strengthening MDDCs through capacity development to enable them to become more effective partners of the government and to institutionalize and mainstream Gender and Development programs, projects and activities of the MDDCs.
The event is pursuant to the SRA's mandate as set forth in Executive Order No. 18, series of 1986 which is to "promote the growth and development of the sugar industry through greater and significant participation of the private sector, and to improve the working condition of laborers," SRA press release said.*([email protected], SRA tel 034) 434-3524)