UNEGA Resolution for Coalition with PDP-Laban Passed


on Fri, 10/06/2017 by Jun delos Reyes
The Secretary General of the United Negros Alliance (UNEGA) Party, Board Member Salvador Escalante, Jr., handed a Resolution to the Speaker of the House of Representatives and Partido Demokratiko Pilipino–Lakas ng Bayan (PDP-Laban) Secretary General, Pantaleon Alvarez, for the Proposed Coalition by and between the UNEGA and (PDP-Laban) for the purpose of pursuing common goals for the benefit of all the constituents of the Province of Negros Occidental.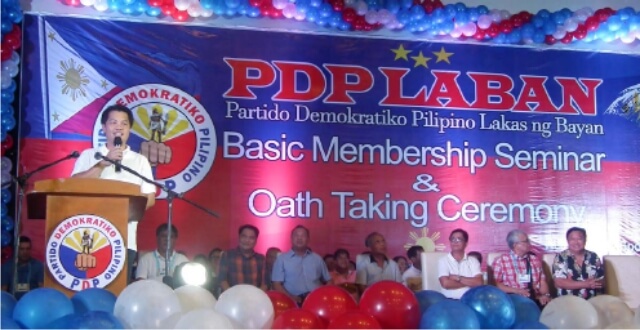 Congressman Alfredo "Albee" Benitez, 3rd District Negros Occidental delivers his message and presented the more than 10,000 community leaders of the towns and cities of Negros Occidental to Speaker Pantaleon Alvarez of the House of Congress in support to PDB LABAN at the Basic Membership Seminar, Federalism Forum and Oathtaking Ceremony at the jampacked crowd at Victorias Coliseum, Victorias City, yesterday.*(Jun de los Reyes/NDB photo)
This was during the PDP-Laban Basic Membership Seminar and Oath Taking Ceremony held in Victorias City, yesterday, attended by thousands of officials from the different towns and cities of the province.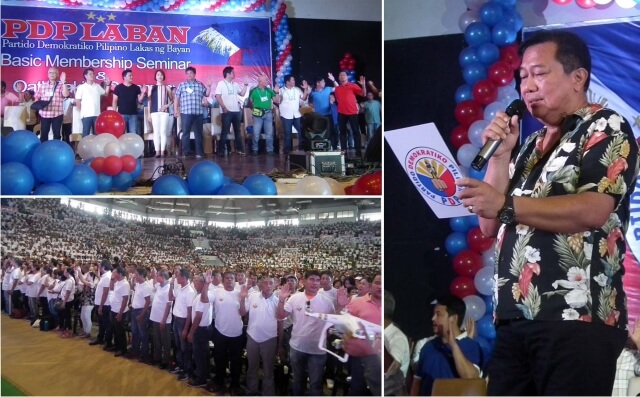 HOUSE SPEAKER Pantaleon "Bebot" Alvarez, Speaker of the House of Representatives, Congressman, 1st District of Davao Del Norte, PDP LABAN National Secretary General administers the mass oathtaking of more than 10,000 city, municipal, barangay officials, kagawads and community leaders at the Basic Membership Seminar, Federalism Forum and Oathtaking Ceremony at Victorias Coliseum, Victorias City, yesterday, October 5.*(Jun de los Reyes/NDB photo)
It is stated in the Resolution that UNEGA has been recognized by the Commission on Elections as the dominant local party for Negros Occidental. It shares and wholeheartedly supports the vision and ideology of President Rodrigo Roa Duterte for a peaceful and democratic way of life characterized by freedom, solidarity, justice, equity, and social responsibility, self-reliance and efficiency, enlightened nationalism, and a shift to a federal system of parliamentary government.*