DOE, DOST validation teams visit Third District for solar projects
Negros Occidental Third District Congressman Alfredo Benitez has facilitated last week vital groundwork to enable residents and communities in remote and far-flung areas in his District to enjoy power and water supply harnessed from renewal energy.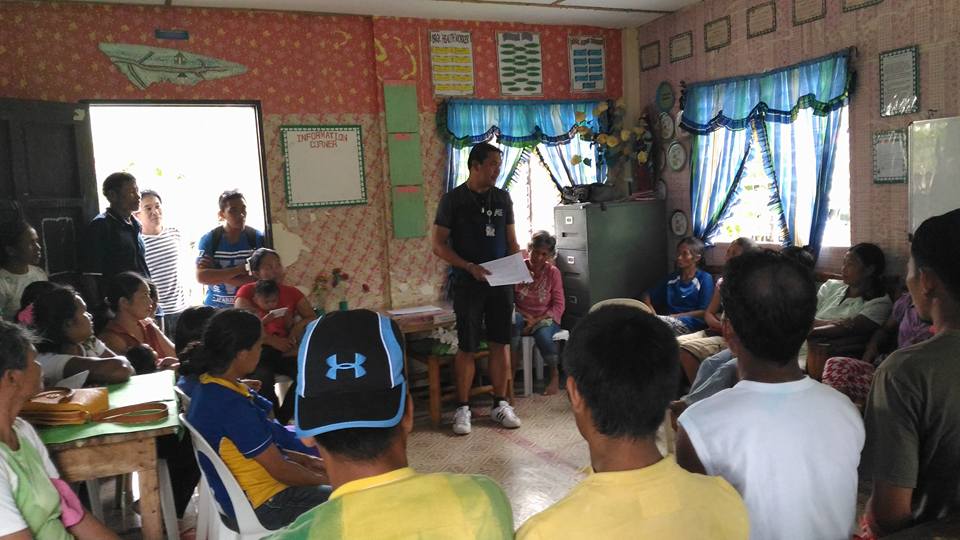 ENGR. JIMMY PLANAS of Central DOE explains to residents of Barangay Canlusong, EB Magalona the Household Electrification Program of the DOE.
Two separate validation teams arrived in the province from the Department of Energy and the Department of Science and Technology. Both were guided by the House and District staff of Cong. Benitez, with the support and cooperation of the local government executives of the Third District.
Representatives from the Central Negros Electric Cooperative and the Northern Negros Electric Cooperative also joined the activity for the Household Electrification Program (HEP), a component of the expanded Rural Electrification Program of the DOE.
Ocular inspection was conducted in Sitios Sibato and Lantawan in Barangay Guimbalaon of Silay City. Covered in Talisay City were Sitio Kipot, Barangay Concepcion; Hacienda Granada in Barangay Matab-ang; and Purok Tumpok in Barangay Bubog.
Reached in Barangay Minoyan in Murcia are Sitios Balasyang, Genam-an and Tangke. In Victorias City, visited was Barrio Lawaan in Barangay 20.
Barangay Canlusong of EB Magalona that can be accessed through the Victorias City route was also visited and the team reached Hacienda 17, Sitio Ilaya 1 and 2, Jaroy and Marinque.
Those qualified under the HEP will be provided power using renewable energy systems such as photovoltaic, solar home system and micro-hydro system. Beneficiary sitios or barangays are also provided with solar streetlights and communal PV systems.
The qualified areas for the program will be assisted by DOE, the electric cooperatives, their respective LGUs and the office of Cong. Benitez in the preparation of requirements for qualified and committed households.
DOST, on the other hand, fielded an Engineering Consortium composed of representatives from the Technological University of the Phil. in the Visayas, Carlos Hilado Memorial State College, Colegio San Agustin-Bacolod and the Iloilo Science and Technology University to work on a pilot proto-type for a solar-powered water system.
The DOST group visited Barangay Caliban in Murcia, Barangay Consing in EB Magalona, and Barangay 12 in Victorias.*