Reaching Out to Informal Settler Families in Metro 3rd
Focusing on the other "H" in his METRO 3RD ASENSO –IHELP (infrastructure-health & housing-education & environment-livelihood-policy) PROGRAM, Congressman Alfredo Benitez initiated an inventory of informal settler families (ISF) and a review of the various housing programs of local government units in the Third District.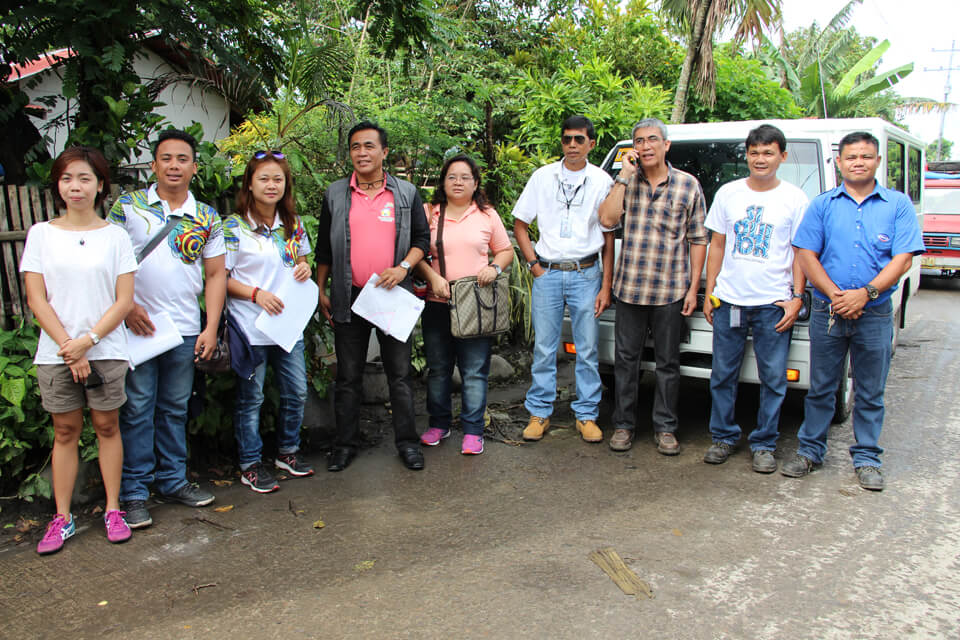 Site inspection with Victorias Milling Company representatives. Marie June Castro, Paz Marie Valenciano and Allana Montepio of the Congressional District Office accompanied by VMC staff Beltran Gargoles, Romy Moses Depasucat, Fortunato Deo Sombero and Wilmar Castillo visited the proposed 10-hectare lot that will be donated by VMC for socialized housing for ISFs in the VMC community.
Marie June Pavillar Castro, women's rights advocate, civic leader and former Silay City councilor who was tasked as District Coordinator for Housing Concerns DCHC), said the initial inventory recorded close to 50,000 informal settler families in Victorias, EB Magalona, Silay, Talisay and Murcia. As she works closely with the LGUs to assist fast-tracking their housing programs and other related concerns, the listing and mapping of ISFs continue to generate an accurate data-baseline for appropriate interventions and provide relevant inputs to policy initiatives to address the housing backlog and other issues.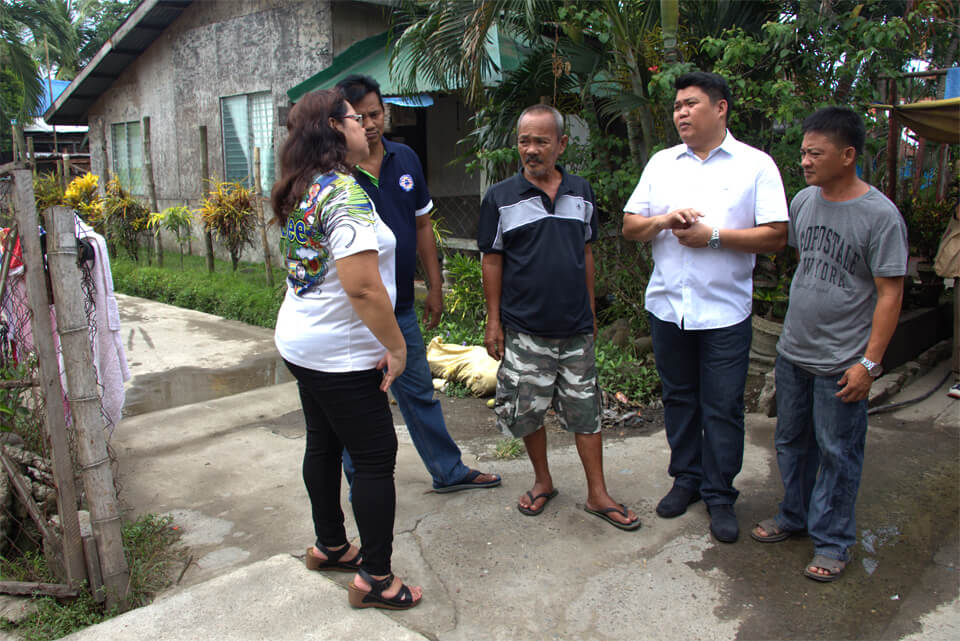 EB Magalona Mayor Marvin Malacon and Marie June Castro in an informal huddle with Barangay Poblacion 3 punong barangay Alan Alejandrino and his kagawads Jason Derla. Faustino Villarosa, Ronnel Mogul, Leah Esponilla and Roberto Segura. Around 1.2 hectares in Purok Tondo in Poblacion 3 have been identified for titling for ISFs as they now work to organize a homeowners association to comply with the conversion requirements.
Cong. Benitez worked with the National Housing Authority and Victorias Mayor Francis Frederick Palanca to facilitate the implementation of the Permanent Housing Project in Barangay 13 for the victims of Typhoon Yolanda. To date more than 300 units are occupied by ISFs of the total target 2,321 houses.
Victorias housing officer Primilo Solinap recently reported that 1,300 ISFs will soon benefit from the free patent program of the Department of Environment and Natural Resources (DENR) in Villa Miranda.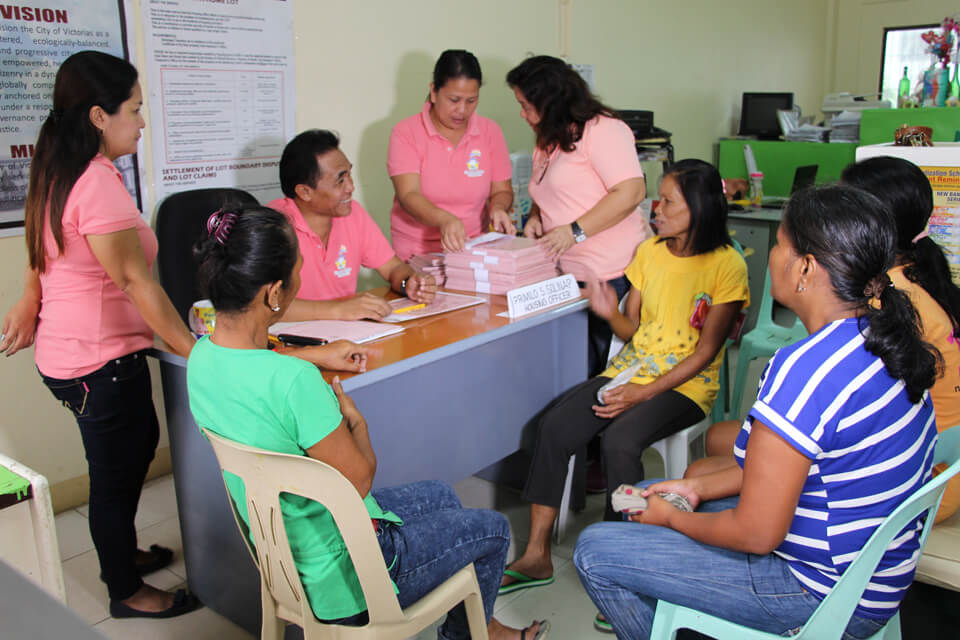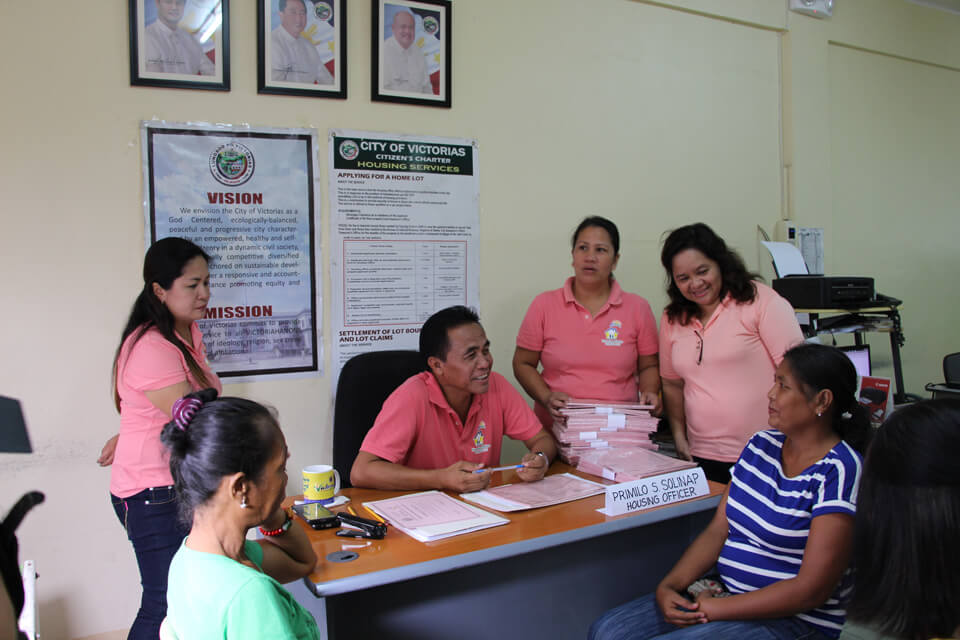 Victorias City housing officer Primilo Solinap assists ISFs in his office.
EB Magalona Mayor Marvin Malacon reported five priority areas as sites for relocation and housing projects – Barangays Mantaangan, Gahit, Nanca, Poblacion 3 and Sto. Niño for those affected by Typhoon Yolanda and other natural disasters.
DCHC Castro have also identified ISFs who have organized themselves into homeowners associations seeking assistance and conducted consultative meetings with these groups. Among them are the Community Association of Barangay Zone IV of Talisay, the Community Association of Purok Kapayas, Barangay Zone IV of Murcia.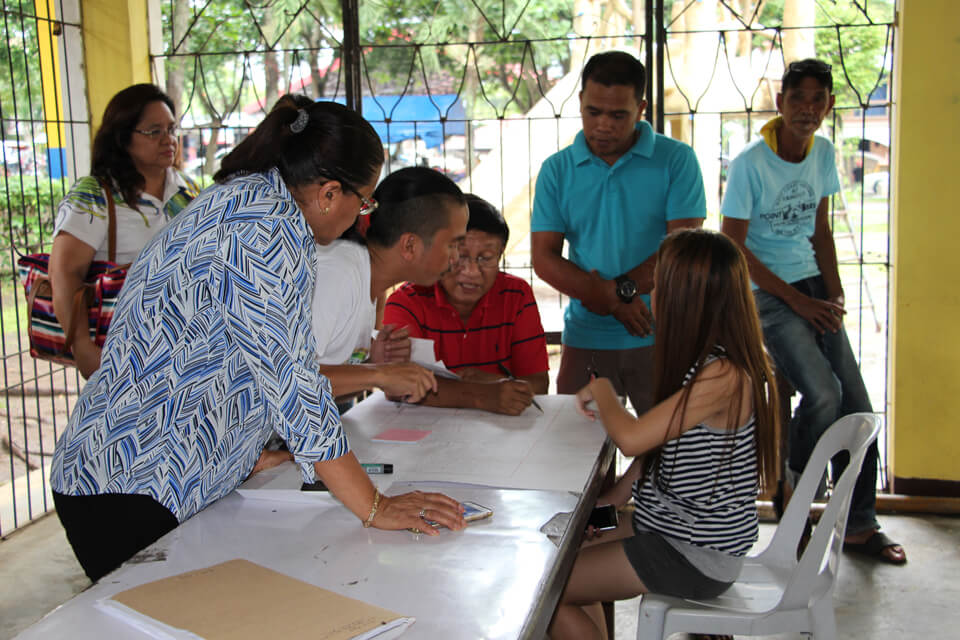 The Community Association of Purok Kapayas in Barangay Poblacion IV, Murcia headed by their president Kagawad Miguel Gela meets with DCHC Marie June Castro, the surveyor and representatives of the Municipal Engineer's office to discuss technical concerns related to requirements of the HLURB.

Around 1.2 hectares in Purok Tondo in Poblacion 3 have been identified for titling for ISFs as they now work to organize and start the process for them to have security of tenure.
Vital links are established with government housing agencies like the National Housing Agency (NHA) , Social Housing Finance Corporation (SHFC) and the Housing and Land Use Regulatory Board (HLURB). The District Office and the DCHC continue to conduct various fora to assist the SHFC advocacy on promoting the Community Mortgage Program (CMP) and the Local Community Mortgage Program (LCMP).
Ongoing is the coordination with the Habitat for Humanity, a non-profit housing organization whose vision is to provide decent shelter for underprivileged informal settlers. DCHC Castro said, Habitat plans for a housing project in the province, using available indigenous materials.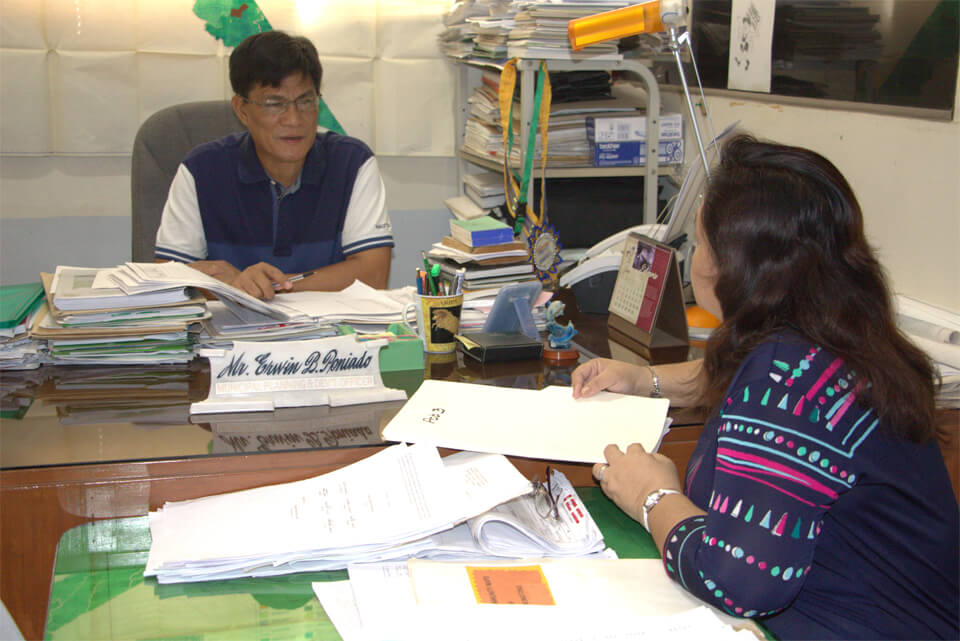 EB Magalona municipal development & planning officer Engr. Erwin Poniado in a consultative meeting with Congressional District representatives Marie June Castro, Paz Marie Valenciano and Laarni Aguilar.
Congressman Benitez who is also the House chair for the Committee on Housing and Urban Development have initiated groundwork on ways and means to tackle the housing backlog in the country, working closely with his counterpart in the Senate, Senator Joseph Victor Ejercito.
In his District, Congressman Benitez takes the lead in transforming lives of informal settler families through access to resettlement communities and socialized housing.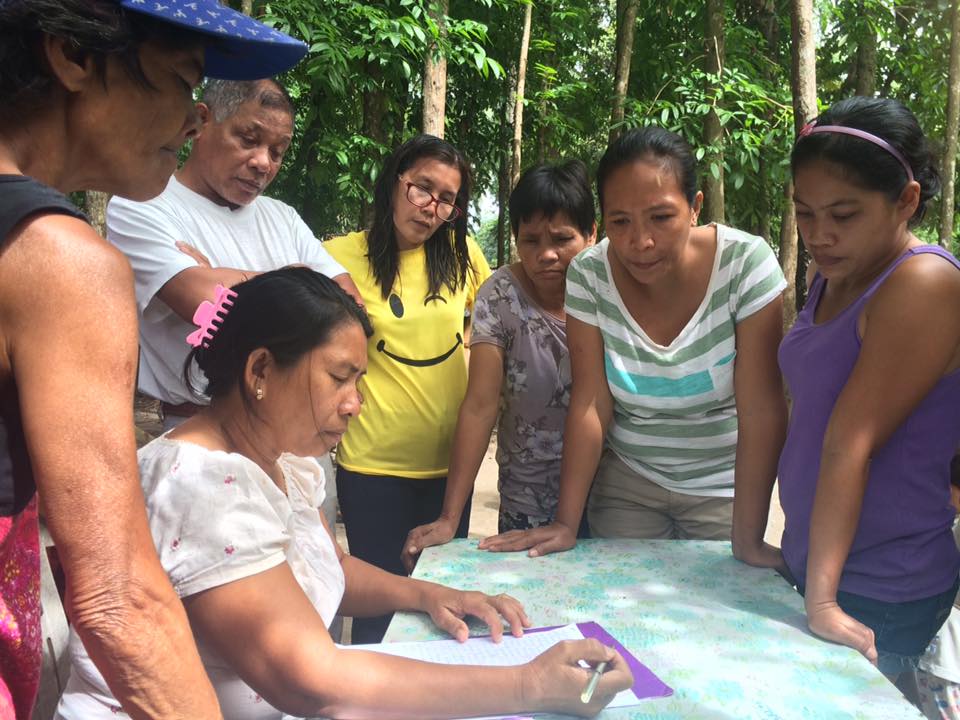 DCHC Castro recently gathered and met with the ISFs of Purok Berano in Barangay Lantad, Silay City.
DCHC Castro together with Team Albee shared experiences of long and tedious meetings with stakeholders, rigorous systems and procedures that need improvements and even changes and most of all, the need to change attitude and mind set of people that have been rooted in the old ways.
But opportunities outweigh the constraints in the work towards improving lives of people. For Congressman Benitez, the challenge of making shelter . . . housing . . . . and finally, decent homes a reality for informal settler families is not an impossible dream.*
---
Watch Video of Cong. Albee Benitez Asenso sa Ika-Tatlo nga Distrito: Puluy-an para sa Tanan (Hiligaynon Version)
Cong. Albee Benitez Asenso sa Ika-Tatlo nga Distrito: Puluy-an para sa Tanan (English Version)