Silay Gov't & Habitat for Humanity Sign MOA for Housing Project


on Tue, 11/14/2017
Silay City Government and Habitat for Humanity Philippines Foundation, Inc. signed a memorandum of agreement yesterday for a multi-million housing project in Brgy. E Lopez, Silay City.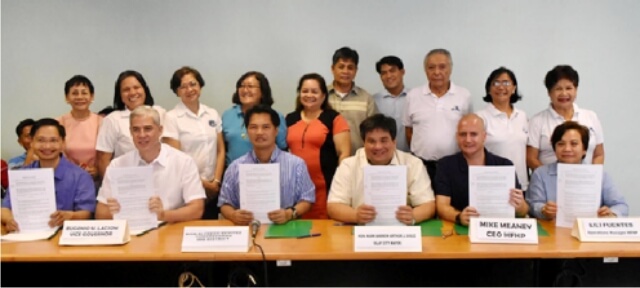 MOA Signing: From right, Lili Fuentes and Michael Meaney of Habitat for Humanity Philippines, Silay Mayor Mark Andrew Arthur Golez, Cong. Alfredo Abelardo Benitez, Vice Governor Eugenio Lacson and Francisco Benitez holding signed the memorandum of agreement between Silay City and HHPFI. Standing behind are housing stakeholders and legislators of Silay City, Habitat, and I-HOME Bacolod.*
The MOA signed by Mayor Mark Andrew Arthur Golez of Silay, and Michael Meaney, Managing Director of HHPF, covers the construction of an initial 100 units of cement-bamboo frame housing units in 10 months, with an estimated cost of about P45 million.
Third District Representative Alfredo Abelardo Benitez, who is the chair of the House Committee on Housing and Urban Development, and Lili Fuentes, project director of Habitat, signed as witnesses.
The duplexes will be constructed at BonBon Resettlement Project Phase 3, which was developed by the Silay City Government using financial assistance from the National Housing Authority under the LGU Resettlement Assistance Program.
In his message prior to the signing, Mayor Golez thanked Habitat for the project which he said will be a big help to the less fortunate brothers and sisters of the City.
For his part, Meaney, said he is looking forward to a strong partnership between Habitat and the City of Silay.
The MOA signed initially covers 100 units but Habitat is committed to raise funds to complete the construction of 546 housing units, including some community facilities.
Congressman Benitez welcomes the project and also shared some sustainable initiatives being piloted in some housing sites, such as, the provision of water to the households using solar-powered driven pumps.
Also present during the signing ceremony held at the Operations Center in Silay City were Vice Governor Eugenio Jose Lacson, Francisco Benitez brother of Cong. Albee and President of the Philippine Women's University, Vice Mayor Joedith Gallego, City Administrator Ryan Montoro, and councilors Linda Caja and Tom Ledesma of the committee on housing.
Vice Governor Lacson said, he is glad to know that bamboo will be used in the project, citing that the province of Negros Occidental is currently have a strong advocacy to promote bamboo.
Meanwhile, E. B. Magalona Mayor Malacon, who was also present during the MOA signing, together with the municipal councilors, said he is hopeful that with their efforts in housing, in coordination with Municipal Planning Officer Erwin Poniado, they will also be future partners of Habitat
Other guests during the MOA signing also included Judges Dyna Trocio, Ana Bernad and Eunice Cuansing, and members of I-HOME-Bacolod.
Habitat Bacolod/Panay staff Ma. Victoria Abello, Silay Housing Authority Officer Alore Golez and her staff, and Marie June Pavillar-Castro, District Coordinator on Housing Concerns, assisted during the MOA signing and provided technical assistance support during several project meetings.*(Marie June Pavillar-Castro)