25,000 leaders in 3rd District meet today


Thursday, December 21, 2017
Teresa D. Ellera, Carla N. Cañet
NEGROS Occidental Third District Representative Alfredo Benitez said about 25,000 political leaders in the district will gather Thursday and the "Asenso" slate for the 2019 elections will also be announced during the assembly at Rafael B. Lacson Memorial High School in Talisay City.
The lawmaker is expected to introduce his brother, Philippine Women University president Jose Francisco Benitez, to be his successor in the Third District.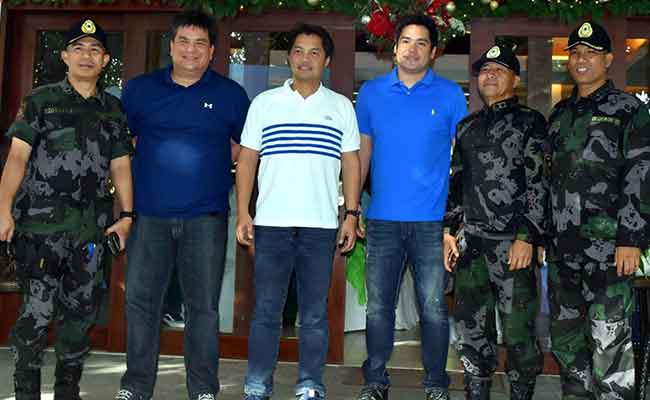 BACOLOD. Mayors Mark Golez of Silay City (2nd from left) and Neil Lizares of Talisay City (3rd from right) with policemen led by Superintendent Noel Polines (left) are among those who joined the 51st birthday celebration of Third District Rep. Alfredo Benitez (3rd from left) in Victorias City yesterday. (Contributed Photo)
Benitez, who will end his term in 2019, has been included in the senatorial slate of the administration's Partido Demokratikong Pilipino-Laban ng Bayan (PDP-Laban).
Most of the incumbent mayors in the district will be re-electionists in 2019, including Silay City Mayor Mark Andrew Golez, Talisay City Mayor Neil Lizares, and E.B. Magalona Mayor Marvin Malacon. Murcia Mayor Andrew Montelibano will also end his term in 2019.
Benitez said that it previous years, his political leaders held gatherings in different venues, but this time they will do it together in one event.
"So we are expecting about 25,000 leaders today to attend the gathering," he said.
The congressman celebrated his birthday Wednesday in Victorias City, with Governor Alfredo Marañon Jr., Vice Governor Eugenio Jose Lacson, mayors of the Third District as well as Bacolod City Lone District Representative Greg Gasataya and Mayor Evelio Loenardia, and Abang Lingkod partylist Representative Stephen Paduano in attendance.
Benitez would not reveal yet his political plans for 2019.
"I'm even considering not running at all which is one of the options I'm looking at," he said.
He added that Love Negros, which he leads, has not discussed local politics yet.