Benitez formally endorses brother as successor


Friday, December 22, 2017
Carla N. Cañet
JOSE Francisco Benitez was endorsed by officials of the Third District of Negros Occidental led by his brother, Representative Alfredo Benitez, in front of the 25,000-strong leaders of Asenso Metro Third District formed by the lawmaker.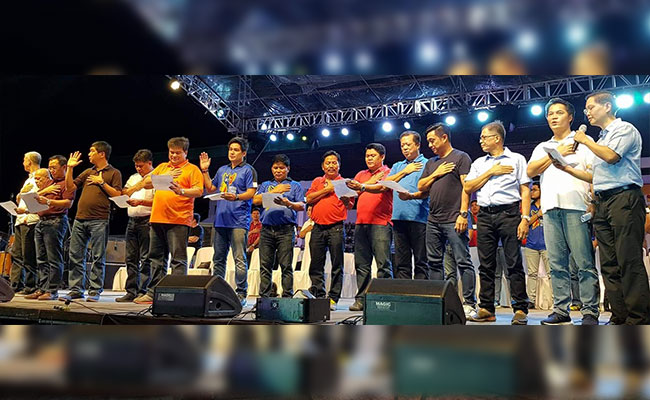 NEGROS. Philippine Women's University president Jose Francisco Benitez (right) leads his brother Negros Occidental Third District Representative Alfredo Benitez (2nd from right) and other officials make a pledge of commitment for the Asenso Metro Third District slate for the 2019 elections. (Carla N. Cañet)
The gathering, held at Barangay Zone 12, Talisay City, was attended by the town and city mayors in the district as well as Vice Governor Eugenio Jose Lacson and Abang Lingkod partylist Representative Stephen Paduano.
Benitez said that when he first ran in 2010, he only had less than 50 leaders, and seven years had passed, the number has grown to more or less 25,000.
He added that he gathered them to introduce a new kind of service where people will have an easy access to government service.
Asked about the endorsement for his brother, Benitez said the people has called him to run for public office and serve them.
All the local leaders in the Third District have asked him also to be his successor, said the lawmaker, who is on his third and last term in the House of Representatives.
"He (Francisco) would like to make sure that if ever he throws his hat in the political arena, he will do a good job. But I know, he will," Benitez said.
Francisco Benitez, president of Philippine Women's University, said: "I am going around to find out what it is that the people need and want. At the end of day, it really is the programs that must stand on their own. I have accepted the endorsement."
He said that he is ready for his possible shift of career from the academe to politics.
He added that his brother was "on the right track in trying to transform the district economics by improving the infrastructure."
As to the possibility of his brother running for senator, he said, "That is his decision. I wish I knew what my brother's thoughts were. But he has not decided and he is seriously looking about what the next step will be."
Benitez said that for now, he has three options – whether to run for senator for governor, or not to run at all.