EDUCATIONAL ASSISTANCE PROGRAM
Under the Tulong Dunong Program or the Student Financial Assistance Program, a total of 2,310 college students have been assisted for SY 2014-2015, and a total of 2,305 students for SY 2015-2016.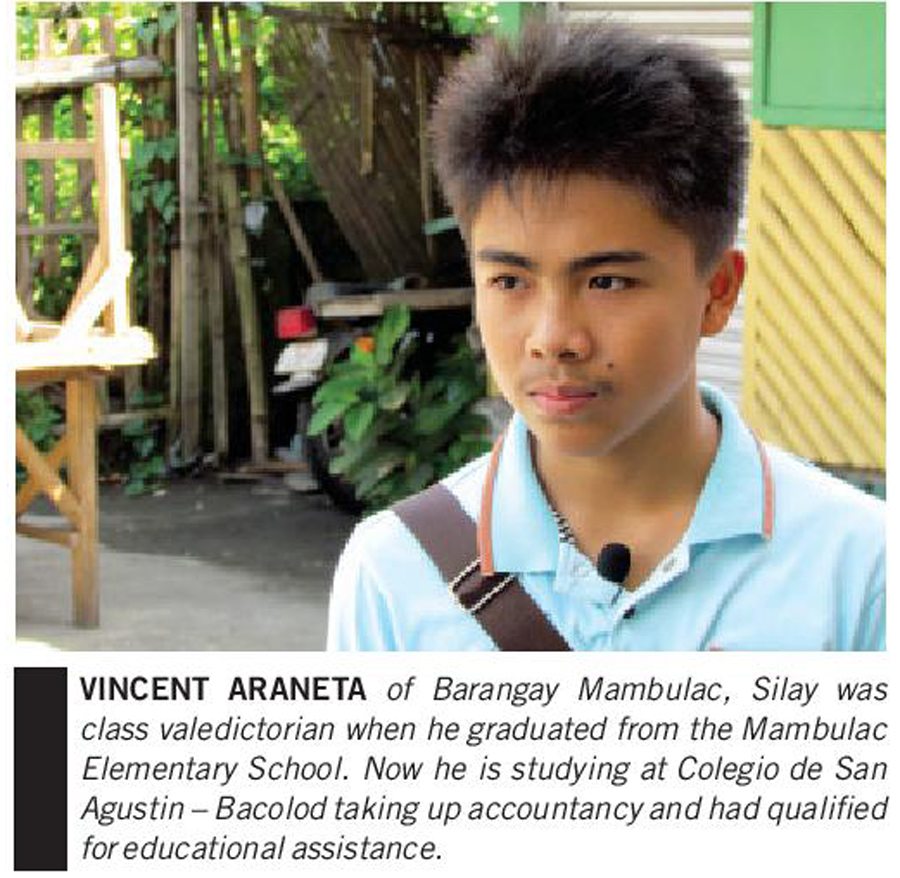 These beneficiaries were enrolled in the following schools – Carlos Hilado Memorial State College-Talisay, Central Philippine State University, Northern Negros State College of Science and Technology, Philippine Normal University, Technological University of the Philipines – Visayas, University of the Philippines – Visayas, West Visayas State University, and the Bacolod City College.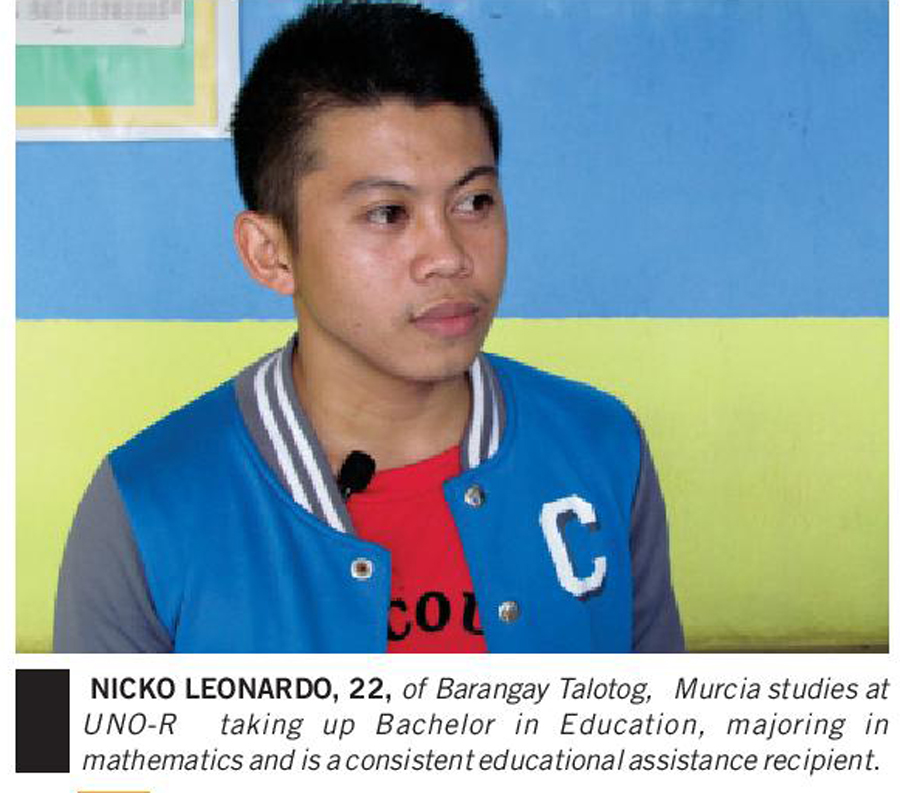 A total of Php 41-M budget have been allocated for this educational assistance to college students enrolled in both public and private schools (FY 2014 Php 14-M; FY2015 Php 14-M; and FY 2016 Php 13-M). Under the Commission on Higher Education (CHED) Special Study Grant Program, 60 students availed for SY 2014-2015 and another 60 students for SY 2015-2016.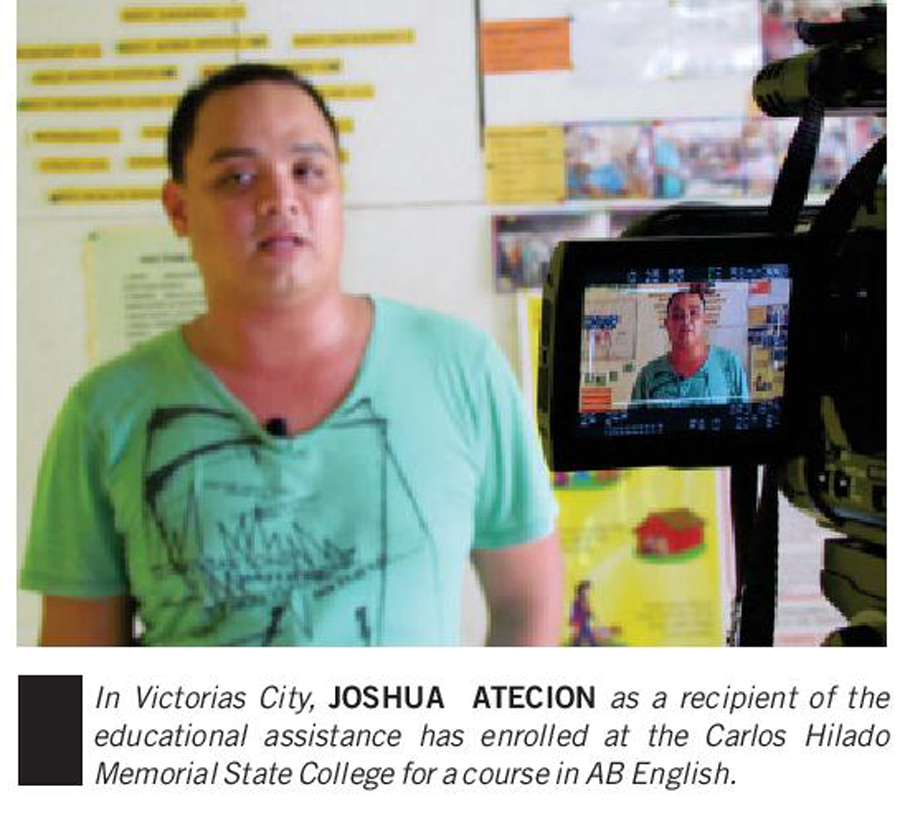 Under the Department of Agriculture Scholarship Program five recipients from E.B. Magalona, Murcia, Silay and Talisay are enrolled in the Central Philippine State University qualifying since schoolyear 2011-2012. Romeo Alicante of E>B> Magalona graduated Cum Laude in March 2015 and is now gainfully employed with the government.
The Technical Education and Skills Development Authority (TESDA) provides financial assistance for qualified applicants to short term training courses under three programs.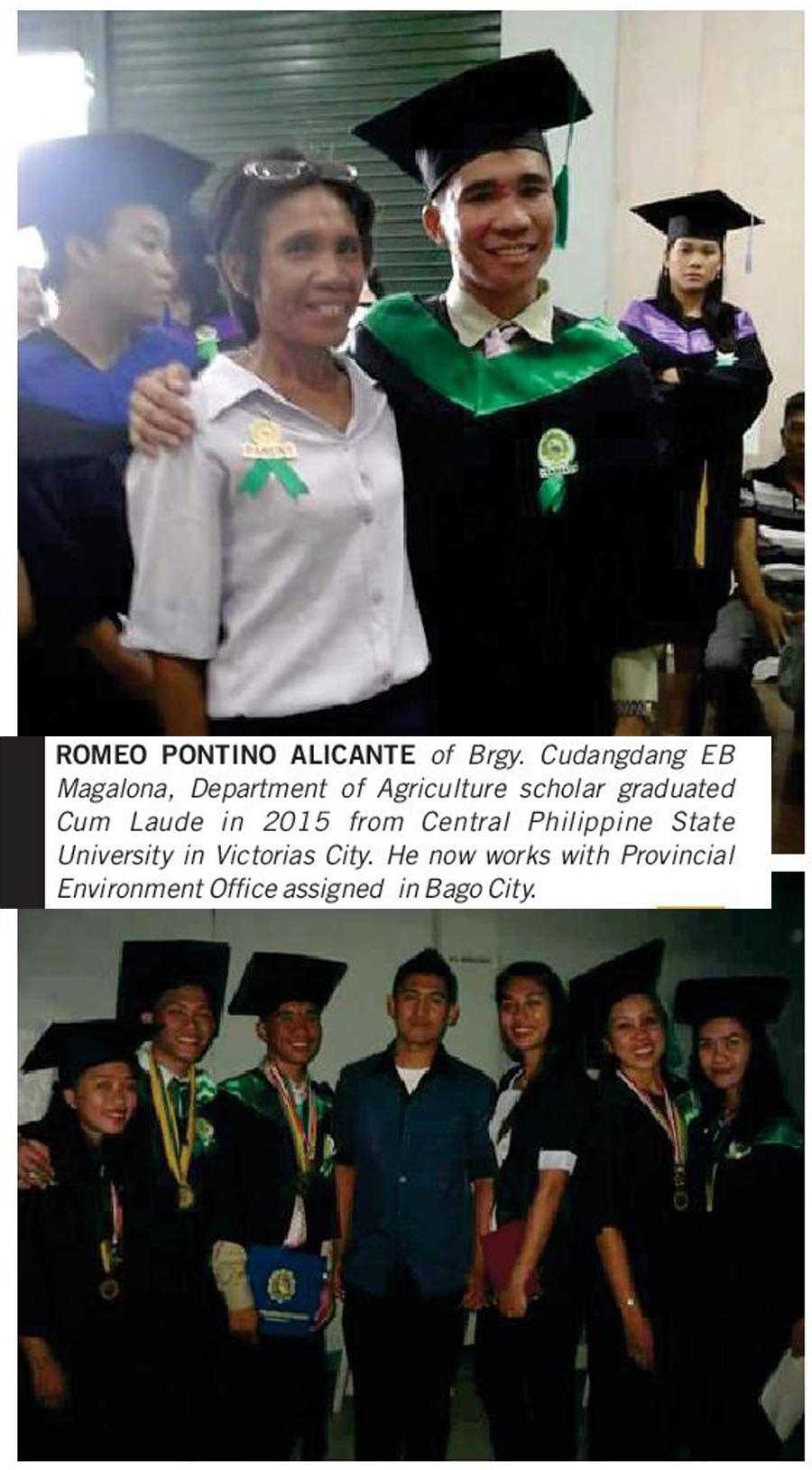 Under the Private Education Student Financial Assistance (PESFA) 177 trainees finished with Php 1.3-M budget in 2013. In 2014 173 completed trainings with Php 1.3-M. A total of 198 finished in 2015 covered by a budget of Php 1.5-M. The TESDA Training for Work Scholarship Program or TWSP benefitted 121 trainees in 2014 with a cost of Php 861,500.00.
PESFA a n d TWSP cou rses include automotive servicing, bookkeeping, commercial cooking computer hardware serving, consumer electronics servicing, dressmaking, health care servicing, household services, machining, massage therapy, plumbing, programming, shielded metal arc welding, and visual graphics. The Special Training for Employment Program (STEP), also under TESDA has a total of 242 trainees in 2015 covered by a budget of Php 3.5-M.
STEP trainings are conducted with local government unit counterparting and are held in the respective cities or towns. STEP trainings include Perform Preventive Maintenance on Motorcycle Mechanical/Electrical System (leading to Motorcycle /Small Engine Servicing);Perform Diesel/Gas Engine Tune-Up Servicing;Install Wiring Services/Install Lighting System (leading to electrical installation maintenance; and Maintenance Repair Cellphones (leading to consumer electronics servicing).
The TESDA training courses are conducted in partnership with private institutions, among them, Laura Vicuña Foundation, Red Aeronautics Institute, Lasaltech, NSET-Murcia, Don Bosco, Abi e-tech- Bacolod, and International Electronics and Technical Institute. The Program and Services Group of the District Congressional Office and the Congressional Staff at the HOR Office work hand in hand to facilitate the yearly cycle of preparations and activities of the various educational assistance programs,from identifying and screening of applicants, processing and coordinating with educational centers and schools, monitoring of implementation and documentation.*